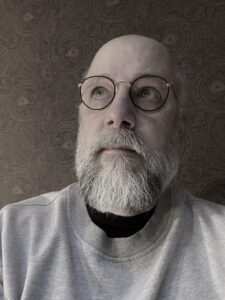 Okay, I might as well get this out of the way, you know, the mandatory end-of-the-year post. It's the one I was trained to do at the end of every year when I called myself a blogger. It's the post that reviews some of the great stuff I did this year and forecasts all the great stuff I'll do next year.
First, 2022 was kind of a crappy year. Oh, I created a lot of music and poetry, and did a lot of cool stuff. I went to Rodney Crowell's "It Starts with a Song" camp in Nashville. That's enough to just stop writing here. But there was also constant strife in my personal life, in the life of a single dad to a teenaged daughter.
I posted some vague posts about what was going on in that regard. I told you I might post more details in the future. I still might… but not yet.
Oh, and then we moved to Maine. No big deal. That's all part of the story I can't tell you, personal stuff that would actually make a great book, but could endanger lives if told too soon.
These end-of-the-year-posts are supposed to be motivating. But just like New Years' resolutions, they're usually 90% bullshit. I won't tell you I'm going to write 50 new songs, or 30 new ambient compositions, or a new book, or a dozen new poems. I won't claim that I'll be adding great photos to the site.
Nope. I've got no predictions. Life throws too many curve balls for that. There are only two things I'll be discussing.
Maybe, I should just shut up about the personal stuff? I like having an outlet to share my journey, but I feel I've gone too far lately. It makes the site about me, me, me! The original intent of this site was to create a place solely for and about music, art, and creativity. I've strayed a bit writing posts like this silly end-of-the-year post. Sorry, but 10+ years of blogging programmed me.
More sales and promotions? So having a website is cool and all, but it's not doing much for me other than providing a place to showcase my work. My traffic here has been flat. (I kind of miss my old minimalist blog, Hip Diggs.) I'm lucky to sell a few books and pieces of music a year. What's the point in having a site if there are no sales? Perhaps, I should focus more on business elements. Meh.
Bottom line is simple. Life is never certain and I'm not going to make any predictions for 2023. I'll just do what I do. What comes will come. What happens will happen. But at least I'll sleep better knowing I wrote my mandatory end-of-the-year post.
Happy Holidays! – dse
Learn more about creativity
Get new Anderhill music first
Get special discounts
Sign up for the newsletter