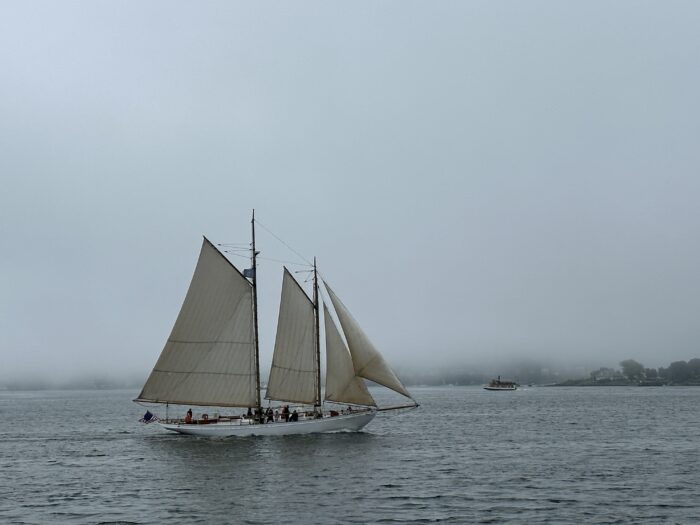 My sabbatical is officially underway. The goal is to rewrite my first book, A Train Called Forgiveness, by the end of this year. I'm happy to report that I'm off to a good start.
First, I get the pleasure of doing some of my work in South Portland Maine, looking out at the bay watching boats and sailing ships. I can't complain about that. It's beautiful and the photo above was taken during one of my writing sessions.
As for the writing process, I've made some decisions about how I'm approaching the work and have already completed the first three chapters of the book.
I decided that a full rewrite from scratch was too much to accomplish in three months. Instead, I'm doing more of a deep edit. Here are some of the primary changes that I'm making.
I'm adding short sections of commentary where more explanation might be appropriate.
I'm changing names of people and places from fictionalized depictions to actual names. There are some exceptions.
I'm organizing the writing a bit differently on the page, and I'm adding a little more content to beef things up. The original book was barely over 40,000 words. I'd like to get closer to 50,000.
A Train Called Forgiveness was written in a way that made it almost like a long poem. At the time I was trying to be artistic and unique. I also used a lot of short and concise sentences. The new version of the book, which has the working title of Cult Boy, will still have some of that poetic feel but there will be a stronger sense of prose.
I'll keep the short sub-chapters that I used in the initial version. I think they help to keep the pace of the story. The reader will be taken between two parts of my life in short chunks. The two stories unfold and meet in the end.
Completing a "rough draft" of this book as I'm contracted to do should be a fairly simple process. I'm spending about two hours a day working on the deep-editing process. After that, who knows, maybe it'll be time to start contacting literary agents and publishers. – dse
Learn more about creativity
Get new Anderhill music first
Get special discounts
Sign up for the newsletter